Gallery 4
---
Depression Paints
depression. so many friends, acquaintances, and what little family i have left, suffer from this and have sought help, it's disturbing! and how can so many children suffer from depression? simply because it was unknown or undiagnosed in the past? one of the dearest souls in my life has struggled with depression for much of her life. this is my humble attempt to represent what it means. not that i know from a tragic personal experience, but i was taking herbal supplements some years ago (St. John's Wort) and my emotions were clipped off - no highs, no lows. i was aghast (or would have been). the emotional void was *awful* and i can only think how much worse it must be for those who actually struggle with such a thing!
as an artist who loves color (one Lüscher is famous for his color theory, after all) i cannot think of a more appropriate way to intuit the loss of hope, the emotional turmoil - or lack - that our friends and loved ones suffer. the paint box label (all custom) says "water color" - "brush included" - "non toxic" - "1 color", and at the bottom (below the M-Zone logo, etc.) it says "depression collection".
non-functional (purely ornamental) watercolor paint set. the color wells all contain a quantity of dark grey matter mimicking a real watercolor. they appear to have been used to varying degrees.
---
Alien Exploitation-Tonight on Fox
they came to show us the way (you know: using hangers, and always hanging up our clothes) and now they are working in our bath houses, loitering around military bases, and even appearing on the Fox Network!
Prismacolors on cartridge paper, dimensions are 2 3/8" x 3 7/8"
---
Alien Craft Parked in Driveway
what can i say? all he needs is a beer to enjoy while standing next to his muscle craft.
PrismaColor markers on white paper, dimensions are 8.5" x 11".
---
Fire-Eating Aliens at the Carnival
ink and PrismaColors on white paper, dimensions are 5 5/8" x 5 5/8".
---
Confucius Reading Comix
Confucius reading the Sunday funnies. everybody needs a break now and again - that's *my* Philosophy!
inspired while looking through the Hokusai Sketchbook, i decided to demonstrate that even the rich and powerful, or just enlightened, can enjoy comic strips - remember when Mr. Burns was chuckling about Ziggy?
watercolor and gouache, dimensions are 4" x 6"
---
A Little Pot
a little pot for the chic programmer who has it all. if you've lived through the "Death March" and seen your code die or wither on the vine, you'll love being able to see something grow out of it instead!
this photo does little justice to the actual artwork, making it appear muddy and dark. the reason -> lower quality photos load faster!
a little pot, decorated with floppy disks, keywords from various languages, etc. dimensions are 3.25" wide at top x 3.5" tall.
---
unfinished pre-911 painting
in early 2001 i left my job in Madison and moved. before moving i had an inspiration for one of my sick paintings: above my desk at work i'd posted a Yahoo! ad which showed the Southern tip of Manhattan. the ad said 'feel like something is missing?'. about the only thing missing was the twin towers. near Battery Park, on the ad, i wrote a brief message explaining this to co-workers who were unfamiliar with the city. at home i sketched the plane but had not yet sketched the buildings. a few days later i was busy moving and did not complete the picture.
a few months later, on September 11, lounging in bed (unusual) i rolled over to turn on the TV (also unusual, first thing) and watched the first 'live' report link-up about the first impact. in disbelief i watched the total carnage unfold, blow-by-blow, step-by-step.
the canvas has sat on the floor, facing the wall. too much pain and shame (guilt?) to allow me to finish it and too disrespectful to recycle the canvas for something else.
there must be someone out there who can take this painting and give it the wall space it deserves as a memorial and a reminder. i can't put it up because of the massive guilt i felt - i know i didn't have anything to do with 9-11, but you can imagine the feelings, i think. (NOTE: it was sold on eBay)
primed, unfinished, canvas with sketched outline of airliner. dimensions are 20" x 16"
---
Ancient Programmers Burial Site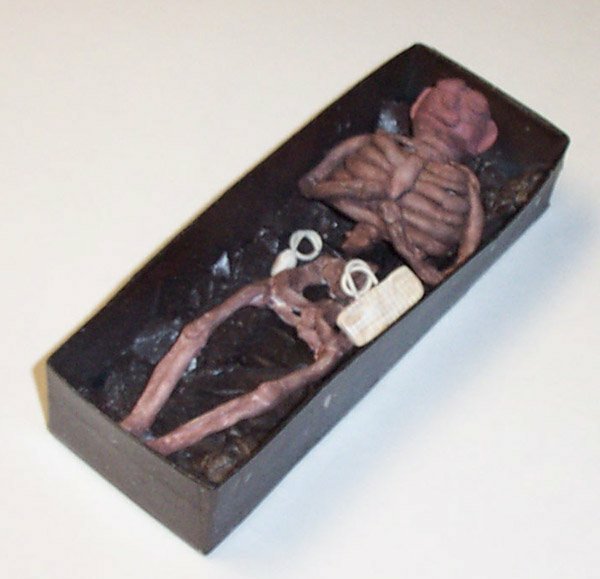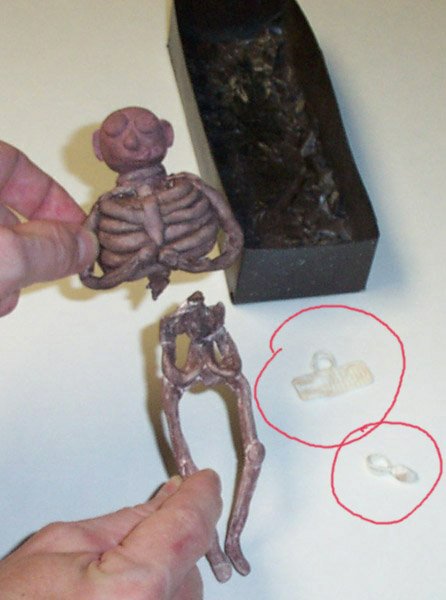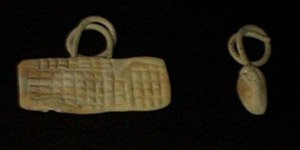 whether an ancient programmer or the ultimate web warrior, this could be you in 10,000 years! these not-so ancient remains depict my original burial plans.
this photo does little justice to the actual artwork, making it appear muddy and dark. the reason -> lower quality photos load faster!
this is all hand-sculptured from a variety of ACMI certified nontoxic (ASTM D 4236) materials. faux human remains, in situ burial plot, funerary items include keyboard and mouse. action figure has mudhead mask and has been covered in cinnabar look-alike paint. dimensions are 7.5" long, 2.75" wide, 1.75" high.
---
Bird Dream
a dream image from the pages of my dream journal.
while walking outside a mall i spotted a stick on the ground. the stick seemed interesting and i picked it up. later, in the mall, it started to shake and buzz - i realized it could be full of bees or something, and that they could have already gotten in my coat! suddenly i noticed little bird heads popping out of my sleeves! the birds began flooding out of my coat sleeves, (this is the illustrated moment) and seconds later my jacket burst open and my chest exploded with little tiny birds - all flying out in a endless flood like clowns out of a tiny car. throwing my head back i joyously laughed as these little birds exited my sleves and coat front.
this photo does little justice to the actual artwork, making it appear muddy and dark. the reason -> lower quality photos load faster!
watercolors and ink on watercolor paper, dimensions are 8.25" x 6"


---